Seniors living in the TriWay Mobile Home Park fear they will be losing money after having the assessed value of their homes challenged by park owner Starlight Investments.
Residents living in a portion of the park that is poised to be closed were sent notices by BC Assessment, stating that a third party had appealed to the provincial body to reduce the assessed value of the mobile homes.
Ken Nentwig, chair of the TriWay Park Residents Association, says there are around 15 to 17 households - including his - in the portion of the park set to be closed. Nentwig's hearing where BC Assessment was to hear the appeal on March 3 was postponed due to there not being enough time slots. Nentwig himself was appealing to have his assessed value raised because he felt it was mistakenly lowered in 2023.
The Goldstream Gazette has confirmed at least three residents received similar appeals, all in the portion of the park set to be closed at a yet-to-be-determined date.
"For people like us, it is absolutely a critical number," said Peter Kedge, a park resident. "The reason for that is that under the Manufactured Home Park Tenancy Act, the only compensation the manufactured home park owner will get when the owner of the land decides to redevelop it, under the law, they can get assessed value. That's it, they can't get market value."
Kedge is not living in the section of the park that's set to be closed but is worried the same thing could happen to him further down the line if Starlight Investments decides to close his portion of the park.
A statement from Starlight Investments, a real estate investment company that owns more than 70,000 multi-family units in Canada, confirmed they had appealed some of the assessments.
"The objective of the appeals is to ensure assessments are fair and consistent. This is a best practice Starlight undertakes with all properties throughout Canada. We look forward to the BC Assessment providing their feedback."
According to BC Assessment's website, any person can file a complaint about their own or another assessment for the grounds listed in section 32 of the Assessment Act – which includes if an error has been made or if a property has been wrongly assessed.
Jim Isacson is another resident who received a reassessment notice. He has lived in Langford since the 1940s and in the park since 1998. He's in the portion of the park that's set to be closed and his patience is wearing thin. He's looked at motorhomes or moving his mobile home elsewhere but spaces at a mobile home park are hard to find.
"They've been wiping out mobile home park parks like it's going out of style, everywhere," he said.
If the assessed value of his house goes down, he's determined to stay in the park. The home's value, like for most of the seniors living in the park, represents a good chunk of his savings, but pennies relative to today's real estate market.
"The people that they buy out are going to be homeless; they're not going to be able to buy. Where are they going to buy? Or else you're going to be forced to go rent and then and paying the rent money - how long is that going to last?" asked Isacson. "It just makes me sad that they're doing this off the back of senior citizens."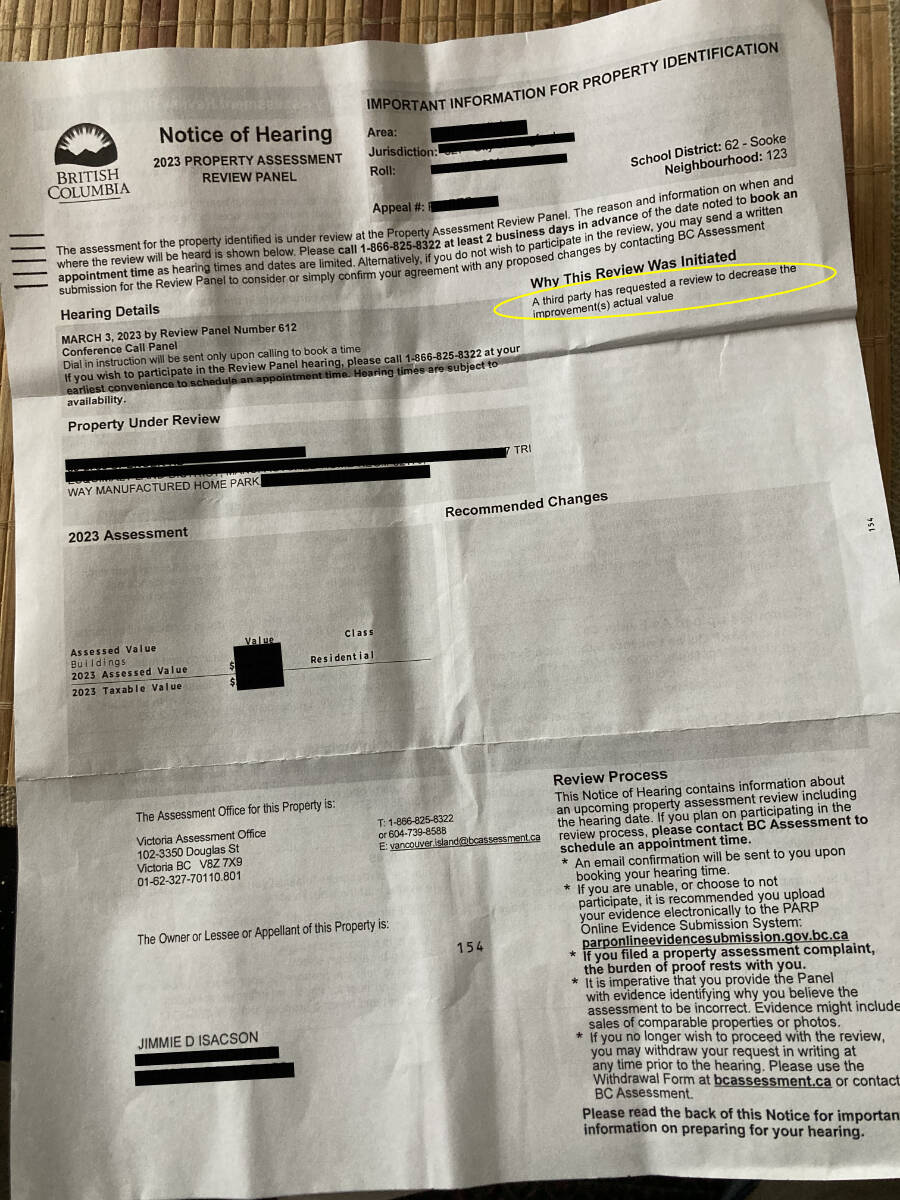 Uncertainty has plagued the park's residents for years.
The building, now run by the Capital Regional Housing Corporation, contains 58 units for lower-income people, targeting seniors, families and individuals, including those with accessibility needs. It was completed this past fall with the building set to be full by the start of April, according to Jamie Gripich, a spokesperson for CRHC.
Impacted residents of the park, 22 in all, had their applications prioritized. Other people living in the park could apply, but didn't get their applications prioritized, he said. Gripich couldn't confirm how many total had moved into the building due to privacy concerns.
"When the building was completed last fall, homeowners from TriWay park were given first rights to qualify for residency and, once accepted, have successfully moved into the CRD building. Several homeowners, upon leaving the park, have also sold their homes to Starlight," the Starlight statement adds.
There was supposed to be a meeting on March 2 between residents, representatives from Starlight and Devon Properties – the company contracted to do maintenance on the park – where residents still living in the park hoped they would get some clarity on their future. But nobody from Starlight was there to answer residents' questions.
"As the development process proceeds, plans and updates will continue to be shared with homeowners and options for future residency will be reviewed. Many homeowners have communicated their desire to stay in TriWay Park and are open to having their homes moved into the area of the park that will be retained. This is a dynamic process, and Starlight continues to work with partners to provide homes in the future defined park development for existing residents," the statement reads.
---
@moreton_bailey
bailey.moreton@goldstreamgazette.com
Like us on Facebook and follow us on Twitter.